Choose any of our scents in any combination:

*These are not refills. They are our reusable tubes.
Customer Reviews
04/07/2020
Skye C.
Australia
Love it!
I was initially gifted Asuvi deodorant and loved it from the start. I am well and truely converted - great product!!
03/09/2020
Peter L.
Australia
02/27/2020
Sarah J.
Australia
Such great deodorant
I've tried a few but I've settled on this one. I won't be wandering off else where any time soon. Reusable tube made of recycled plastic. Refills in cardboard. A product that works, smells good and travels well. Can't beat it. Ticks all the boxes. And when I stuffed up my order, fixing the problem was easily negotiated. I'm supper happy.
02/16/2020
Byron T.
Australia
At last a great natural men's deodorant!!
I thought I occasionally got heat rash and thought nothing of it. In my search to minimise plastic and chemicals in my life I found ASUVI. Smells great, feels great, works great it even refills! I did use my old deodorant temporarily as I re-ordered too late. That is when I realised what I thought was heat rash was related to my chemical deodorant. Not once while using Asuvi did I have a sign of the rash, and it is again gone now I have received my reorder. THANK YOU, Asuvi ticked all my boxes then ticked another unexpected one!!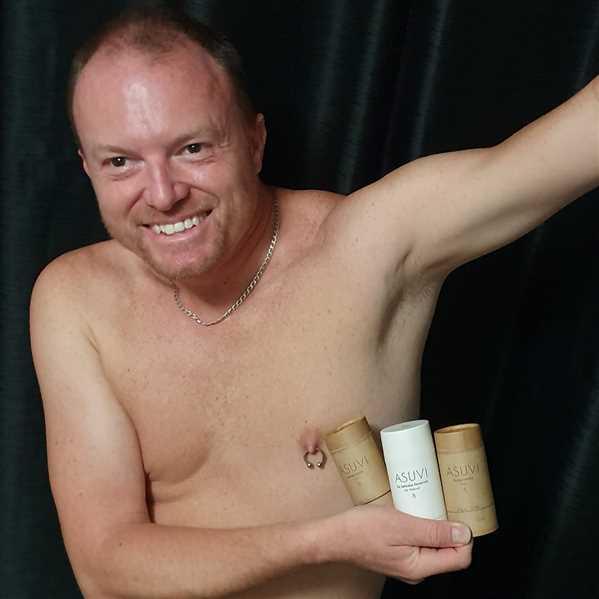 02/15/2020
Andrew S.
Australia
happy one year Asuvi-rsary
12 months on and I'm completely sold. Thought it was going to be tricky weening off a lifetimes use of can deodorant but ASUVI is such a great product it was super easy to switch. Huge fan.